The benefits of a block salt water softener:
1 – Less spillage / wastage with block salt compared to tablet salt.
2 – Ease of handling – a pack of tablet salt weights 25kg whereas our block salt weighs just 8kg!
3 – A block salt water softener is smaller, more compact which means you can fit a block salt water softener into the smallest of cupboards.
4 – Block salt is designed to be very dense, this means that the length of time between refilling your water softener and therefore more efficient.
5 – Ease of storage!
Block salt is available to purchase via our website from £4.25 per pack.
NB Delivery within 15 mile radius of HP12 – please call to check availability / collection  there is also a minimum quantity order outside the 15 mile radius.
For more information for for your FREE no obligation quotation please contact Silkflow on 01494 436205.
Tablet and granular salt from £8.50 per pack.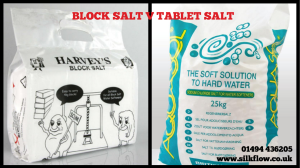 www.silkflow.co.uk