Here at Silkflow we stock an extensive range of taps by Franke as well as Triflow and Combination taps. Our selection of taps have been chosen based on their reliability and high quality designs. Our range of kitchen taps are unrivalled in the UK, both on design quality and pricing. You can be confident finding your tap solution with Silkflow.
Franke taps have been producing plumbing applications for over 85 years and continue to build high quality Kitchen sink applications. Our Selection of taps are renowned for their durability and quality designs, as well as their state of the art production technology. Franke are the world's leading kitchen sink and kitchen tap manufacturer, and live up to their name by repeatedly providing highly reliable and highly durable taps.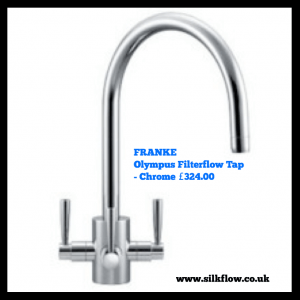 When in search of Kitchen taps you want to make sure that you are not only choosing a tap which will suit your environment, but you also want to make sure you are choosing a reliable tap which will serve you well. Franke taps are your solution, Franke are renowned for their commitment to quality, and an unmistakable flair for design. Taps by Franke are a durable and robust kitchen tap solution, and with a selection of varied designs, you will find something that is right for you and your environment.  You can be confident finding your tap solution with Silkflow.
Here at Silkflow, we are a leading provider, in the UK, of high-quality and reliable taps. Our selection of taps includes a range of franke taps, which are widely recognised as a leading tap manufacturer. To find out more information regarding our selection of Franke taps and other taps, please call us on 01494 436205 or alternatively if you would like to contact us via email, you can do so here: [email protected]