By installing a water softener in your home, you can cut down on your cleaning detergents by 50% including soaps, floor cleaners, kitchen and bathroom cleaners.
Whereas your washing powder, conditioner and dishwasher products can be reduced by upto 75%.
We also recommend you no longer use dishwasher salt or scale removers.
By reducing / eliminating limescale in your home your cleaning products work more efficiently therefore being good for you, your home, your pocket and the environment!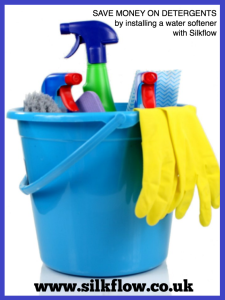 For more information please contact us at Silkflow on 01494 436205.
www.silkflow.co.uk/water-softner-installation/