Another reason for installing a water softener in your home – if you live in a hard water area, using a water softener could reduce maintenance and the cost of water heating by up to £50 per year, equating to just under £600 over the lifetime of your boiler.
For more information, or to see how we can save you money, please contact us at Silkflow on 01494 436205.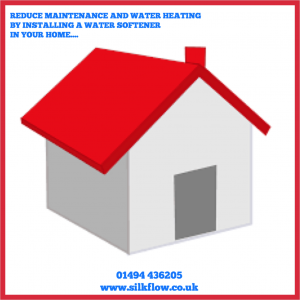 There are multiple benefits from installing a water softener, one of which would be the safeguarding of household appliances. As popular suppliers of water softeners in Great Missenden, we can assist you in all of your hard water concerns. The extra minerals found in hard water have been found to effect the longevity of many household appliances. If you are after an investment that can safeguard the longevity of your appliances in Amersham, Chesham or Great Missenden a water softener is a great idea. Removing these extra minerals, a water softener is key to protecting the life span of your household appliances.
Another benefit of installing a water softener would be the effects hard water has on your skin. Although hard water does not have any serious health side effects, it can add to the deterioration of a skin condition such as Eczema or Psoriasis. Hard water is filled with minerals and when bathing in these minerals a small portion of the minerals are left behind. These deposits can absorb the moisture and natural oils from the skin. Sufferers from conditions such as Psoriasis or Eczema often experience more dryness and irritation after being exposed to hard water.
Silkflow is your answer if you have experienced any of the problems listed. As a popular supplier of water softeners in the Amersham, Chesham, Great Missenden and local areas we are confident we can assist you with your hard water issues.