SILKFLOW
We are Richard and Sharon Boyce and together we own Silkflow which has been providing water softeners and salt since 1987.
We aim to tailor our products to your exact requirements, ensuring your purchase is an investment that will reward you well over many years.
Our service at Silkflow is aimed to give you the very best of what our industry offers. We offer a wide range of water softeners including different filtration systems, ensuring there is something to suit everyone's needs.
We cover all areas of Buckinghamshire, Berkshire, Hertfordshire, Middlesex and Oxfordshire. Our highly skilled and trained team at Silkflow are available to answer any questions you may have about our water softeners service. We also supply salt, drinking water filter cartridges and can service most existing makes of water softeners.
For more information or a no obligation quotation, please contact us on 01494 436205 or by email at [email protected].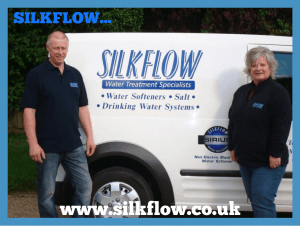 www.silkflow.co.uk